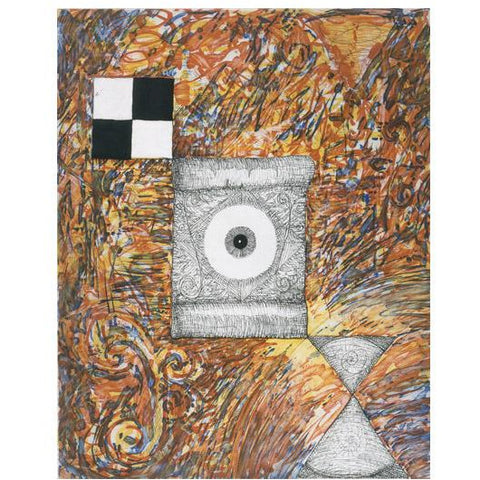 William Wiley: Nothing...Is As It Seems, 1986
This limited-edition print was commissioned by the Prints and Drawings Council of LACMA.
One of the most internationally renowned of California artists, William Wiley—painter, sculptor, draftsman, and printmaker—emerged in the late 1960s with a style in marked opposition to much of the abstract, cool, and minimal art produced in New York at the time. His works can be characterized by his use of witty, surreal, and personal imagery. Wiley is included in many collections, among them LACMA, MoMA, the Whitney Museum, the Walker Art Center, and the Baltimore Museum of Art.
Nothing…Is As It Seems is a soft-ground etching with sugar-lift aquatint. The simple tic-tac-toe form is used as a metaphor for his wife, two sons, and himself. The white circle at the center may refer to the idea of universal harmony, but it also resembles an all-knowing, all-seeing eye. Wiley comments, however, that "I've never felt pushed into why a shape is there or where it comes from. I use it, it overlaps with something else, and I find a history of references."
Established in 1965, The Prints and Drawings Council (PDC) supports the Prints and Drawings Department at LACMA. In addition to raising funds for acquisitions for the museum's permanent collection, the PDC encourages collecting, scholarship, and appreciation in the field of original works of art on paper. PDC members receive many benefits, including greater discounts on the PDC commissioned prints when purchased through the council. Learn more on how to become a member of the Prints and Drawings Council.
- Four color, soft ground etching with sugarlift and aquatint
- 27 x 22 inches
- Numbered edition of 50
- Printed at Teaberry Press for the Prints and Drawings Council of LACMA