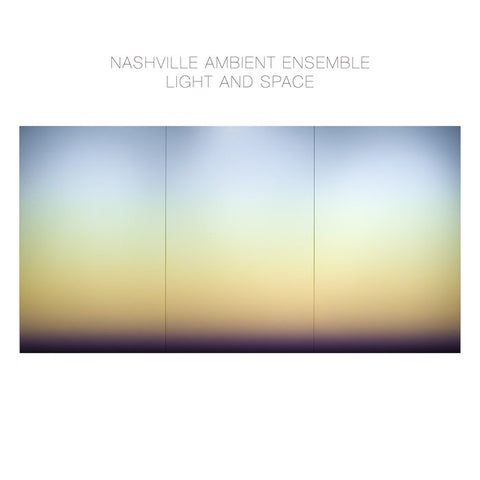 Light and Space (CD Edition)
This CD edition of Light and Space comes in a high quality four panel LP gatefold style cardboard sleeve. This is not a jewel case. Limited to 100 copies. Technically, these are high quality professionally pressed CDr copies.

The Nashville Ambient Ensemble is led by Michael Hix, an electronic composer and keyboardist whose artistic vision focuses on the spirit of collaboration and the art of improvisation. The group plays a unique form of music that has become loosely defined as ambient country or ambient Americana. Light and Space is the group's second release, the follow up to 2021's Cerulean, an album that received a number of accolades from critics, fans, and fellow musicians.

In early 2022 Michael Hix had just completed writing the material for the group's sophomore release when the Frist Art Museum in Nashville, Tennessee reached out and asked the Nashville Ambient Ensemble to record a series of compositions to be featured in the exhibition, Light, Space, Surface: Works from the Los Angeles County Museum of Art. Inspired by eight artworks from the exhibit, Hix composed eight completely new compositions and immediately headed into the studio to record. Intended as an alternative to a traditional guided tour, museum patrons were able to pair their journey through the exhibit with the ensemble's sounds, a feature for which the Nashville Ambient Ensemble and the Frist received overwhelmingly positive feedback, so much so that it was decided the songs deserved a traditional release as the group's new album.
Alicia Enstrom | violin
Michael Hix | synthesizers
Deli Paloma-Sisk | voice
Kim Rueger | piano
Luke Schneider | pedal steel
Jack Silverman | electric guitar

All compositions by Michael Hix except "Channel," by Jack Silverman.
Recorded by Jake Davis at Club Roar in Nashville, March 2022.
Mastered by Taylor Deupree at 12k Mastering.

Cover: Norman Zammitt, Untitled, 1984, acrylic on canvas, three panels, 111 × 216 in. overall, Los Angeles County Museum of Art, gift of William J. and Marilyn Lasarow, © Estate of Norman Zammitt, photo © Museum Associates/LACMA.