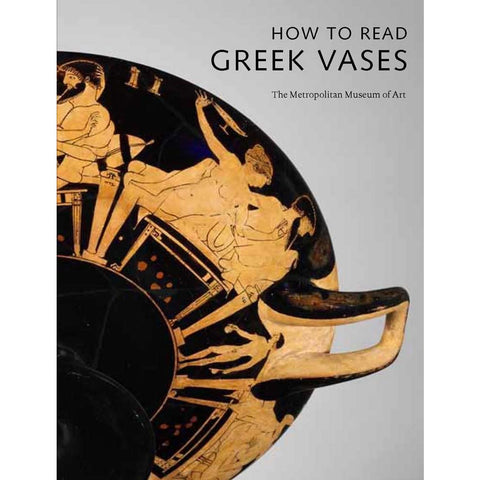 How to Read Greek Vases
This handsomely illustrated volume is the second in a series of publications aimed at giving a broad audience deeper insight into the extensive collections of The Metropolitan Museum of Art. The Museum is famed for its Greek vases. Joan R. Mertens, Curator in the Department of Greek and Roman Art at the Metropolitan, has chosen thirty-five notable examples. They reveal the variety and vitality of the refined forms and masterfully rendered scenes that characterize these works. And they demonstrate the interrelation of function, shape, technique, and subject matter that is key to understanding the rich language of Greek vases. The introduction provides valuable background information, and the entries delve into the features of each vase, incorporating brilliant color illustrations, including many arresting details.
Greek vases served specific utilitarian functions, and they also afforded outstanding artists, some of whom signed their work, a medium for depicting both the details of daily existence and aspects of their gods, goddesses, and heroes. We see the garments, implements, athletic competitions, and marriage and funerary rituals of Greeks who lived from the seventh through the fourth century B.C. We see their mythological figures and stories, for instance, the goddess Athena with her helmet, spear, and shield, and the great hero Herakles, from his first exploit as a baby to his elevation as an immortal at the end of his earthly life.
The exceptional group of works assembled in this volume conveys the extent to which the culture of ancient Greece is still apparent today. Urns and jars inspired by Greek models are a staple in all types of public and private spaces. The meander patterns, palmettes, and other florals that adorn ancient vases recur in all kinds of modern objects. And the concept of the hero, or superman, first formulated and given visual form in ancient Greece is integral to Western culture.
How to Read Greek Vases is sure to inspire closer scrutiny of these remarkable works of art, which have survived for over two millennia to offer viewers an enlightening look into the ancient heritage of the Western world.

- Paperback
- 176 pages, 10.4 x 8.12 x 0.54 inches
- 2021