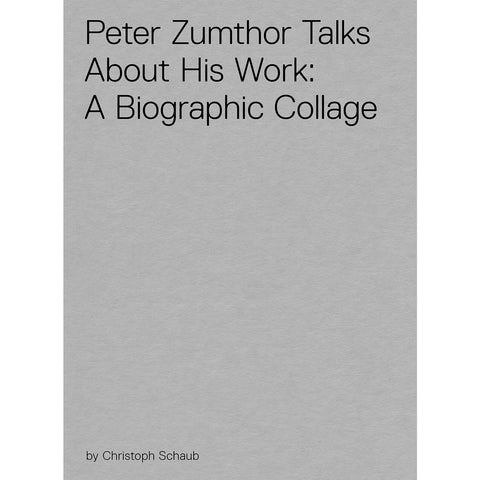 Peter Zumthor Talks About His Work: A Biographic Collage
Over the past thirty years, world-renowned Swiss architect Peter Zumthor has opened up on his work in numerous interviews, conversations, lectures, and other talks, offering copious insights into the contexts of his work and his self-conception as an artist. Many of these interviews and talks have been recorded, yet most have also been to this point unreleased.
Peter Zumthor Talks About His Work
 pairs the renowned architect with celebrated film director and documentarian Christoph Schaub for a lavish biographic film collage that draws from the interviews and talks. It spans all of Zumthor's career, from the 1980s to the present, and explores his entire body of award-winning work. It also introduces viewers to Zumthor the person, showing how he has evolved over three decades yet remains much the same man. Characterized by consistency and authenticity, his comments show him following his inner compass and ideals. In addition to archival material, the film also features wholly new conversations between Zumthor and Schaub, recorded especially for this compilation.
Produced to coincide with 
Dear to Me
, an exhibition curated by Zumthor for the Kunsthaus Bregenz, 
Peter Zumthor Talks About His Work
 is a richly produced and visually stunning portrait of the acclaimed architect, a sincere tribute to its subject and a work of art in its own right.
Directed By Christoph Schaub

- 1 DVD in Hard Case
- 5.5 x 7.5 
- 2018