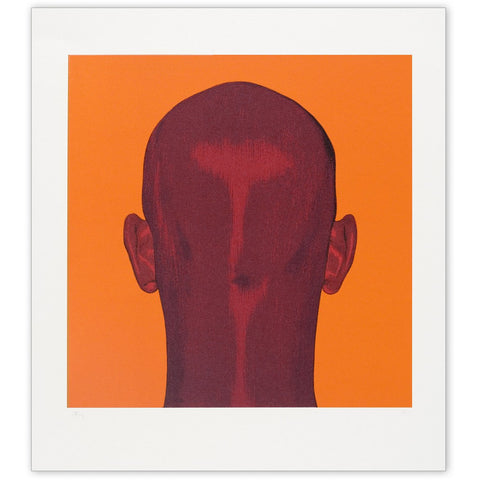 Salomón Huerta: Untitled (Back of Head on Orange Field), 2002
Untitled (Back of Head on Orange Field)
is a limited-edition print by
Salomón
Huerta and was commissioned by the Prints and Drawings Council of LACMA. Huerta was born in Tijuana, educated at UCLA, and is based in L.A. This print is one of a series of "portraits" (both painted and printed) of anonymous subjects seen form the back rather than the front, standing, sitting, or in bust format. In these rear-view "anti-portraits" that draw on the bright palette of advertising and the conventions of pop art, Huerta rejects facial features in order to question the nature of portraiture, allowing the viewer an unexpected and ironic discretion of interpretation.
Untitled (Back of Head on Orange Field) is a brilliant six-color lithograph in shades of tangerine and brick red. As richly colored as a painting, its vibrant palette and simple bold composition, coupled with an absence of character and detail, have the unusual effect of being simultaneously cheerful and enigmatic, not unlike Los Angeles itself.

See a short film about Huerta's art and his artist book Let Everything Else Burn.
Established in 1965, The Prints and Drawings Council (PDC) supports the Prints and Drawings Department at LACMA. In addition to raising funds for acquisitions for the museum's permanent collection, the PDC encourages collecting, scholarship, and appreciation in the field of original works of art on paper. PDC members receive many benefits, including greater discounts on the PDC commissioned prints when purchased through the council. Learn more on how to become a member of the Prints and Drawings Council.

- Six color lithograph
- Paper: 17.1 x 16.6 inches (43.5 × 42.23 cm)
- Image: 11.8 x 11.6 inches (30.16 × 29.53 cm)
- Numbered edition of 75
- Printed by Francesco X. Siqueiros at El Nopal Press for the Prints and Drawings Council of LACMA