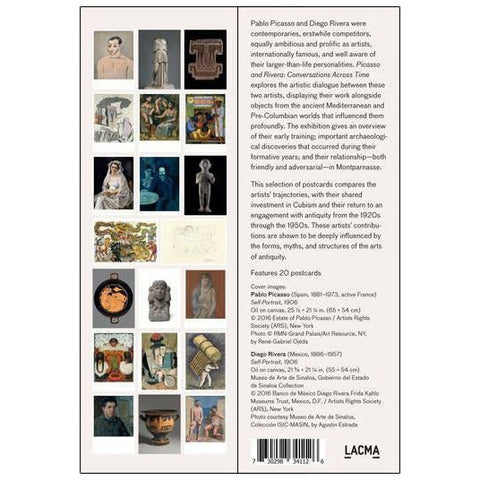 Picasso & Rivera: Conversations Across Time Postcard Folio
Twenty postcards are inside our
Picasso & Rivera: Conversations Across Time
folio, each one is a different image. This was published on the occasion of the exhibition
Picasso & Rivera: Conversations Across Time
at LACMA from December 4, 2016 through May 7, 2017.
Pablo Picasso and Diego Rivera were contemporaries, erstwhile competitors, equally ambitious and prolific as artists, internationally famous, and well aware of their larger-than-life personalities. This exhibition
presents moments of intersection in the formation of modernism both in Europe and Latin America, and asks how these towering figures of the twentieth century engaged with their respective ancient Mediterranean and Pre-Columbian worlds. Postcards reproduce both artists' work. Also included are ancient artifacts similar to those that inspired them.
- 20 different postcards in folio
- Each postcard is 4.25 x 6 in.
- Created by LACMA, designed and printed in Southern California