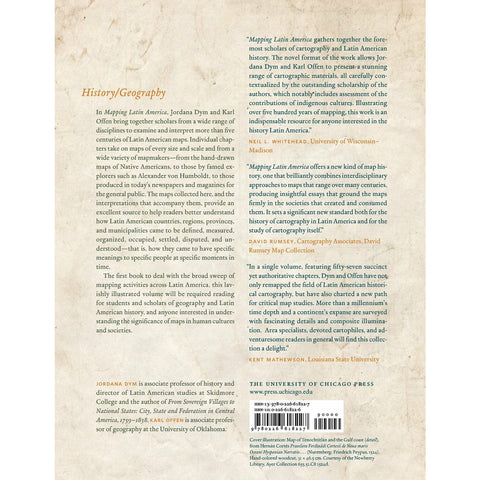 MAPPING LATIN AMERICA
A Cartographic Reader
For many, a map is nothing more than a tool used to determine the location or distribution of something—a country, a city, or a natural resource. But maps reveal much more: to really read a map means to examine what it shows and what it doesn't, and to ask who made it, why, and for whom. The contributors to this new volume ask these sorts of questions about maps of Latin America, and in doing so illuminate the ways cartography has helped to shape this region from the Rio Grande to Patagonia.

In Mapping Latin America,Jordana Dym and Karl Offen bring together scholars from a wide range of disciplines to examine and interpret more than five centuries of Latin American maps.Individual chapters take on maps of every size and scale and from a wide variety of mapmakers—from the hand-drawn maps of Native Americans, to those by famed explorers such as Alexander von Humboldt, to those produced in today's newspapers and magazines for the general public. The maps collected here, and the interpretations that accompany them, provide an excellent source to help readers better understand how Latin American countries, regions, provinces, and municipalities came to be defined, measured, organized, occupied, settled, disputed, and understood—that is, how they came to have specific meanings to specific people at specific moments in time.

The first book to deal with the broad sweep of mapping activities across Latin America, this lavishly illustrated volume will be required reading for students and scholars of geography and Latin American history, and anyone interested in understanding the significance of maps in human cultures and societies.
Publisher ‏ : ‎

 

University of Chicago Press; Illustrated edition (September 28, 2011)

Language ‏ : ‎

 

English

Paperback ‏ : ‎

 

360 pages

ISBN-10 ‏ : ‎

 

0226618226

ISBN-13 ‏ : ‎

 

978-0226618227

Item Weight ‏ : ‎

 

1.98 pounds

Dimensions ‏ : ‎

 

8.5 x 1 x 11 inches