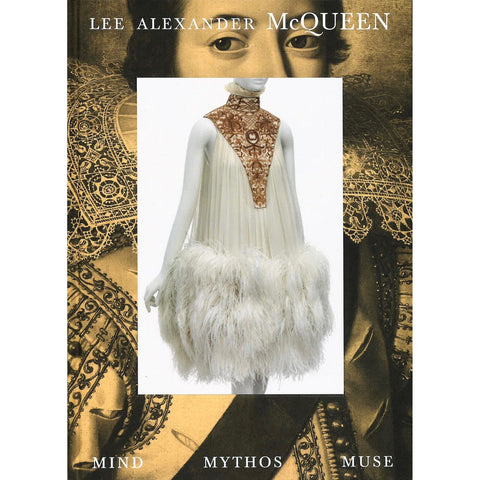 Lee Alexander McQueen: Mind, Mythos, Muse
One of the most significant contributors to fashion between 1990 and 2010, British designer Lee Alexander McQueen was both a conceptual and a technical virtuoso. His critically acclaimed collections synthesized his unique training in Savile Row tailoring, theatrical design and haute couture with a remarkable breadth and depth of encyclopedic and autobiographical references spanning time, geography, mediums and technology. McQueen's singular viewpoint produced exquisitely constructed, thought-provoking, often subversive or allegorical fashion.

Taking a reflective look at McQueen's artful design process, this book documents the designer's diverse sources of inspiration by displaying McQueen's imaginative fashions alongside related artworks. McQueen's encyclopedic references range from ancient Greece and Rome to Tibetan silk brocade patterns, 17th-century Dutch painting, the prints of Goya and the films of Stanley Kubrick. In each of these cases and beyond, examples of McQueen's imaginative and extraordinary work are displayed alongside artworks from LACMA's permanent collection. Spanning art from a multitude of mediums, eras and cultures, this publication provides a new and innovative assessment of McQueen's work and highlights his mindful approach to storytelling and construction through fashion.
Lee Alexander McQueen: Mind, Mythos, Muse is on view at LACMA April 24 - October 9, 2022. 
- Hardcover
- Size: 8.75 x 12.25 inches
- 176 pgs (150 color)
- Published May 2022