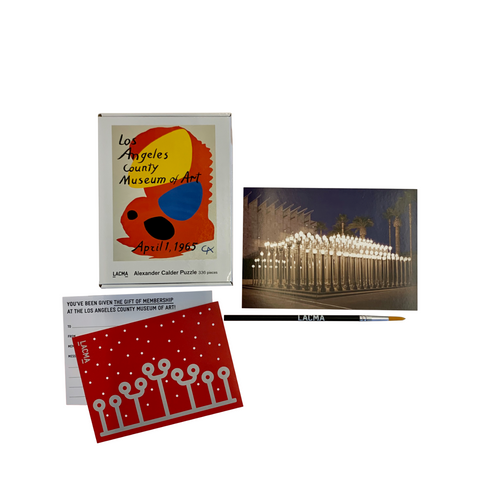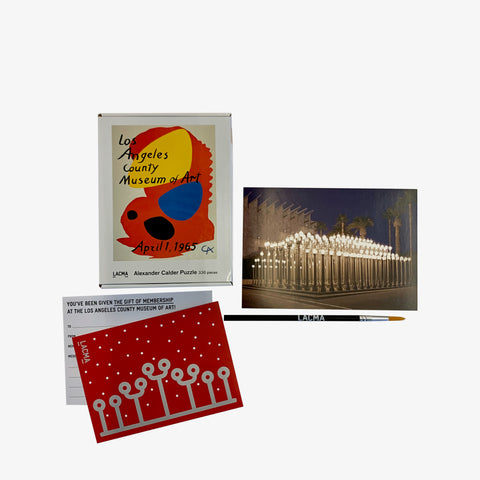 Holiday Gift Membership Bundle LACMA Swag
Please read the full description before completing purchase 
HOLIDAY GIFT MEMBERSHIP BUNDLE - LACMA Swag ($95)
Save $21 off this limited-edition holiday gift membership bundle (normally priced at $116) and give your favorite art lover the gift of 12 months of art! 
This box full of goodies comes with:
Individual-level LACMA gift membership (12 months of unlimited free admission, exclusive invitations, special discounts, and so much more!)
Alexander Calder LACMA puzzle
Urban Light postcard
LACMA logo paintbrush pen
LACMA enamel pin
Please include the following information in the "Gift Note" box/section on the View Cart page:
To: [Recipient Name]
From: [Purchaser Name]
Message: (optional) *approximately 1–2 sentences or 6–10 words maximum*
A staff member will write this information on the gift membership certificate. Please note that the Purchaser Name must match the name of the person ordering the gift bundle. 
If you choose to have the bundle gift wrapped or sent directly to the recipient, please add in the "Gift Note" box/section on the View Cart page the information needed above as the gift membership certificate will be sealed inside the gift bundle box.