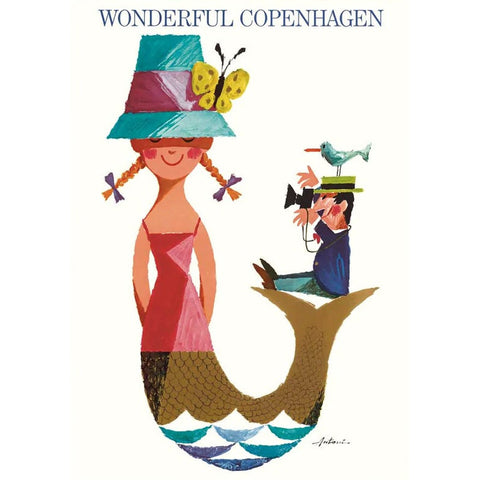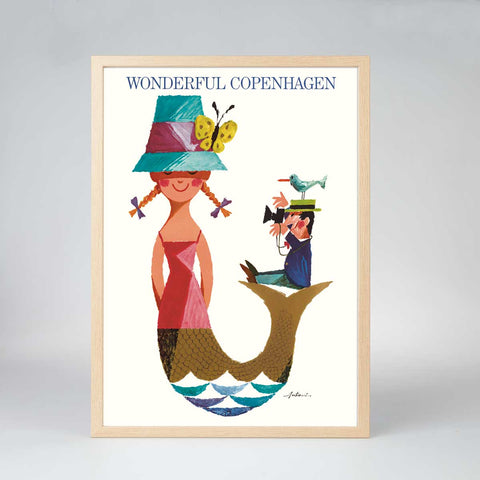 The Little Mermaid & The Tourist Poster
Available online only.
This product is not available in store.
In 1963, when the sculpture of The Little Mermaid, situated in the harbour of Copenhagen, was about to celebrate her 50th anniversary, The Tourist Association of Copenhagen (Wonderful Copenhagen) chose Ib Antoni as the designer of the official jubilee-poster.
On purpose, Ib Antoni has drawn The Little Mermaid very large in comparison to the smiling tourist, maybe to emphasize how big she is in the eyes of the visiting tourists.
Ib Antoni once stated to a Danish newspaper: "New York has the Statue of Liberty and London has the Bobby. The Little Mermaid is and will always be the best symbol of Copenhagen".
The paper of this print has the same nuance as the original prints by Ib Antoni and is printed in lightfast colours. Just like the original prints, these prints also contain an extra layer of pantone gold that give the posters a beautiful and charming shimmer.
Poster Size: 50 x 70 cm (19.7 x  27.6 inches)
Printed on Swedish quality paper (200 grams) from sustainable forestry. 
Made in Denmark