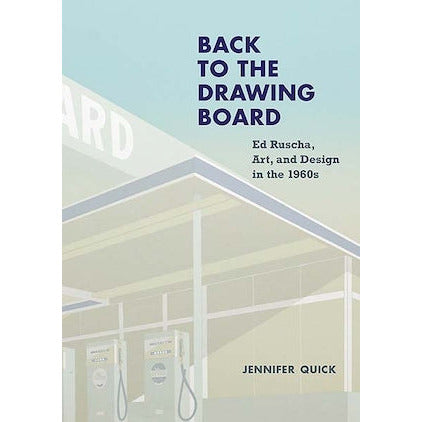 Back to the Drawing Board: Ed Ruscha, Art, and Design in the 1960s
Ed Ruscha (b. 1937) emerged onto the Los Angeles art scene with paintings that incorporated consumer products, such as Spam and Sun-Maid raisins. In this revelatory book, Jennifer Quick looks at and beyond the consumer imagery in Ruscha's work, examining it through the tools, techniques, and habits of mind of commercial art and design. Quick shows how his training and early work as a commercial artist helped him become an incisive commentator on the presence and role of design in the modern world.

Back to the Drawing Board explores how Ruscha mobilized commercial design techniques of scale, paste-up layout, and perspective as he developed his singular artistic style. Beginning with his formative design education and focusing on the first decade of his career, Quick analyzes previously unseen works from the Ruscha archives along - side his celebrated paintings, prints, and books, demonstrating how Ruscha's engagement with commercial art has been foundational to his practice. Through this insightful lens, Quick affirms Ruscha as a powerful and witty observer of the vast network of imagery that permeates visual culture and offers new perspectives on Pop and conceptual art.
by Jennifer Quick 
Details 
- Hardcover
- 208 pages, 7.25 x 1 x 10.25 inches
- Published 2022