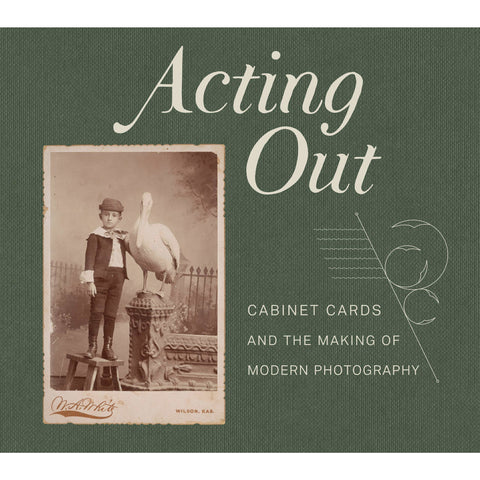 LACMA / Los Angeles County Museum Of Art
Acting Out: Cabinet Cards and the Making of Modern Photography
This publication is issued on the occasion of the exhibition Acting Out: Cabinet Cards and the Making of Modern Photography, 1870–1900 on view at the Los Angeles County Museum of Art from August 8, 2021 through November 7, 2021.
Cabinet cards were America's main format for photographic portraiture throughout the last quarter of the nineteenth century. Standardized at 6½ x 4¼ inches, they were just large enough to reveal extensive detail, leading to the incorporation of elaborate poses, backdrops, and props. Inexpensive and sold by the dozen, they transformed getting one's portrait made from a formal event taken up once or twice in a lifetime into a commonplace practice shared with friends.

The cards reinforced middle-class Americans' sense of family. They allowed people to show off their material achievements and comforts, and the best cards projected an informal immediacy that encouraged viewers to feel emotionally connected with those portrayed. The experience even led sitters to act out before the camera. By making photographs an easygoing fact of life, the cards forecast the snapshot and today's ubiquitous photo sharing.

Organized by senior curator John Rohrbach, Acting Out is the first ever in-depth examination of the cabinet card phenomena. Full-color plates include over 100 cards at full size, providing a highly entertaining collection of these early versions of the selfie and ultimately demonstrating how cabinet cards made photography modern.
Published in association with the Amon Carter Museum of American Art.


-Hardcover
-232 pages
-11 x 1 x 9.75 inches
-266 color illustrations
-2020
 SKU: 64188