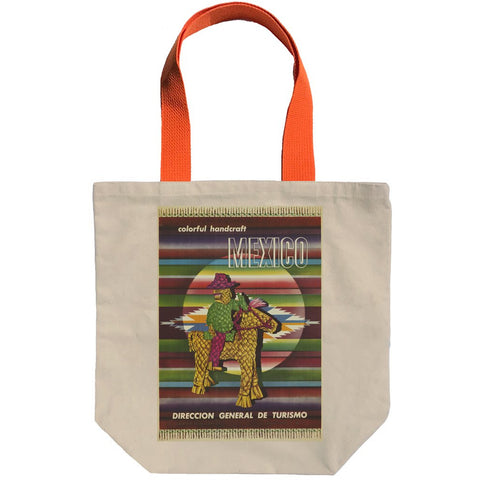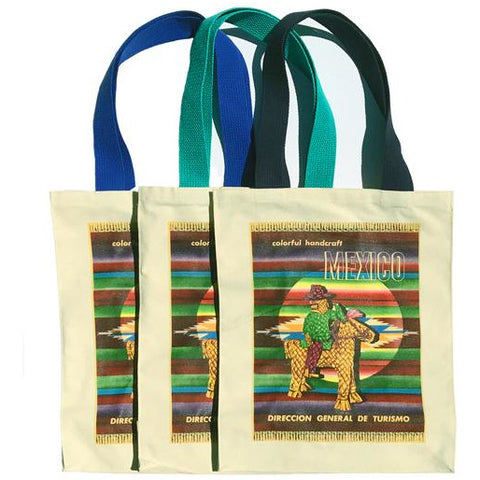 SALE: Mexico: Colorful Handcraft Tote
The Mexico: Colorful Handcraft tote features a reproduction of a travel poster that was produced by Mexico's Dirección General de Turismo in the mid-20th century. This tote comes in different handle colors, if we are out of your preferred color, we will substitute another. 

The poster presents Mexico as a destination for buying "colorful handcraft." The Mexican Tourism Department heavily promoted the nation's enduring craft traditions as part of a simpler alternative to the fast pace of modern life. From the early twentieth century, traditional crafts and arte popular (folk art) were sought out by collectors, artists, and craftspeople from both sides of the U.S. border who became inspired by these objects and considered them works of art imbued with time-honored ways of living and making.


LACMA has a large collection of travel posters in its permanent collection, including several done by Mexico's Dirección General de Turismo. 

- 100% sturdy 10 oz. cotton canvas body
- Tote: 12.5 x 16.5 x 6.5 inches 
- Handles: 1.5 x 23 inches 
- Fabricated and printed in California for LACMA

Originally $40.00 Now $15.00
No Further Discounts